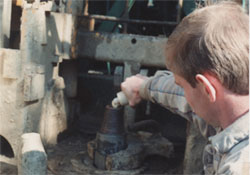 Inpol-Lube
Inpol-Lube is an ester base compound designed with high molecular weight oxidized polymers. The compound, formulated specifically to lubricate and protect the internal workings of down-hole hammers, giving longer lifespan and productivity to the equipment, all while ensuring that there is no environmentally impact.
Due to the molecular structure of Inpol-Lube, a protective film is deposited throughout the working parts of the hammer and is able to adhere to hammer surfaces far longer than petroleum based products.
With a molecular structure of over 6000, the greater size is the reason that the wearing surfaces have less contact. The asperities or points of the metal surfaces minimally penetrate thru the protective lubricating film.
These unique components of the compound change the inter reaction of the asperities, on the two surfaces. Instead of galling and tearing, this eventually leads to failure. The opposite takes place, the asperities burnish. Producing a mirror finish, the result is an improved micro value without the loss of metal.
Use
Two to three ounces of compound are applied to a hammer after every 300 feet of drilling or after three or more hours of continuous use. Inpol-Lube compound will provide proper lubrication for hammers 3 to 6 inches in diameter. For larger hammers of 8 inches, contact us for a schedule of application. Inpol-Lube is resistant to breakdown and vaporization at temperatures under 400 degrees Fahrenheit.
Economy
Only a fraction of Inpol-Lube needs to be used in comparison with traditional rock drill oil. To put it into perspective, only 8 ounces of the Inpol-Lube compound are needed compared to 5 gallons of rock drill oil while the same amount of work is performed.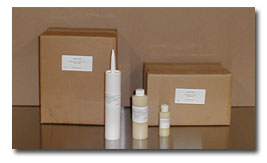 Environmental Impact
In accordance with Inpol's commitment to provide environmentally safe products, Inpol-Lube has been formulated with a biodegradable and non-toxic ester base, which is compounded with oxidized polymers that are non-toxic. This means that there are no harmful chemicals that negatively impact the environment or create health hazards. At Inpol, we also strive to ensure our manufacturing processes are environmentally responsible, and we use food-grade raw materials whenever possible. Available in; 8 oz. bottle (237ml), and 10 oz. caulking dispenser (296ml).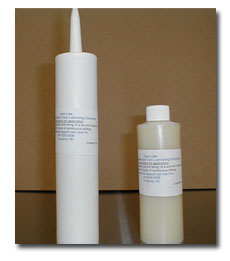 T-C Compound
Protects against abrasion and corrosion of threads and is environmentally safe. When used as a thread treatment, the T-C compound reduces asperities (roughness) and results in a better fit. When applied to a drill string pin thread, the compound will assure correct torque release, often eliminating the need for a thread sealant. Available in; 8 oz. bottle (237ml), and 10 oz. caulking dispenser (296ml).
Photo caption: Application of Inpol-Lube for a (3 inch to 6 inch diameter down-hole hammer). Two ounces of Inpol-Lube are applied into the drill rod, to lubricate the internal working surfaces of the hammer. The hammer is now lubricated for 300 feet or 3 hours of drilling.
View our Safety Data Sheet. (PDF)
View the suggested procedure for lubrication of a six-inch hammer with Inpol-Lube.